Welcome to Abbey Grab Bag
15 YEARS EXPERIENCE
We are a professional waste carrier and have been serving the South for over 15 years. We ensure that all your waste is responsibly and legally transported to a licensed waste transfer station, where approximately 90% of the waste is recycled.
EASY AND CONVENIENT
Bags can be put where skips cannot be placed. Our Hiab crane can reach over hedges, fences and walls. So, if you have no driveway but have a small front garden, our bags are perfect for your waste.
PAY ONLY FOR WHAT YOU USE
Rather than trying to guess how much waste you have and hiring a skip too large for your purpose, we can provide you with as many bags as you may require, and any that you do not use, keep in an unused condition, and hand back to us free of charge. You only pay for what we take away!
MUCKAWAY SERVICE
For large quantities of soil and/or rubble we also offer a grab/muckaway service. Please contact us for a quotation or to arrange a site visit.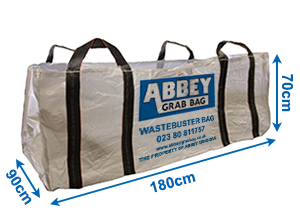 1.5 Tonne Capacity, £90 per bag
Includes Delivery, Collection and VAT
Order Now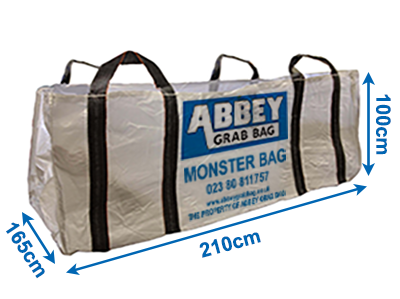 £205 per bag
Includes Delivery, Collection and VAT
£25 on delivery of bag, £180 on collection
Order Now
Delivering Skip Bags and Grab Bags to:
Southampton, Eastleigh, Romsey, Winchester, Fareham, Salisbury, Lymington and most surrounding areas
Thank you for ordering from Abbey Grab Bag. It is our aim to provide an efficient, reliable and friendly waste removal service to you and we place the utmost importance on our customer service and satisfaction. As you will already be aware payment for our bag(s) and service is made on collection of the bag(s) not delivery. We would therefore be grateful if you could read the following information. If you have any queries or concerns, please do not hesitate to contact us at any time.
The bag(s) supplied to you remains the property of Abbey Grab Bag at all times. By ordering and accepting delivery of our bag(s) you agree that you will arrange collection of the filled bag(s) and any unused bags by Abbey Grab Bag only. No other company or third party is authorised to collect our bags.
Abbey Grab Bag can be contacted on 023 80811 757 or 07810 200 339. Our lorries are sign written 'Abbey Grab Bag'. We do not operate vehicles under any different company name or run any vehicles which are not sign written.
If any bags delivered to you are taken away by a third party, lost or destroyed, you will incur a charge of £10.00 to cover the cost of the bag.
We keep records of the movement of all our bags and delivery information is stored on a database for this purpose. Although we do not impose a time limit on the amount of time you may keep our bag(s) for the purposes of this agreement and for clarity, we reserve the right to contact you at any time to make enquiries of our bag(s) in your possession. If a substantial amount of time has passed and we have reason to believe the bag may no longer be in your possession, we reserve the right to charge you £10.00. We also reserve the right to charge administration and debt collection charges as appropriate should you fail to pay for our service.