*CHRISTMAS PERIOD CLOSURE*

Our last full day for collections will be Monday 23rd December 2019. Collections will resume on Thursday 2nd January 2020. Our last day for deliveries will be 24th December 2019 and deliveries will recommence on 31st December 2019. Wishing everyone a wonderful Festive season. And once again thank you for your custom over the past year. The Team at Abbey Grab Bag.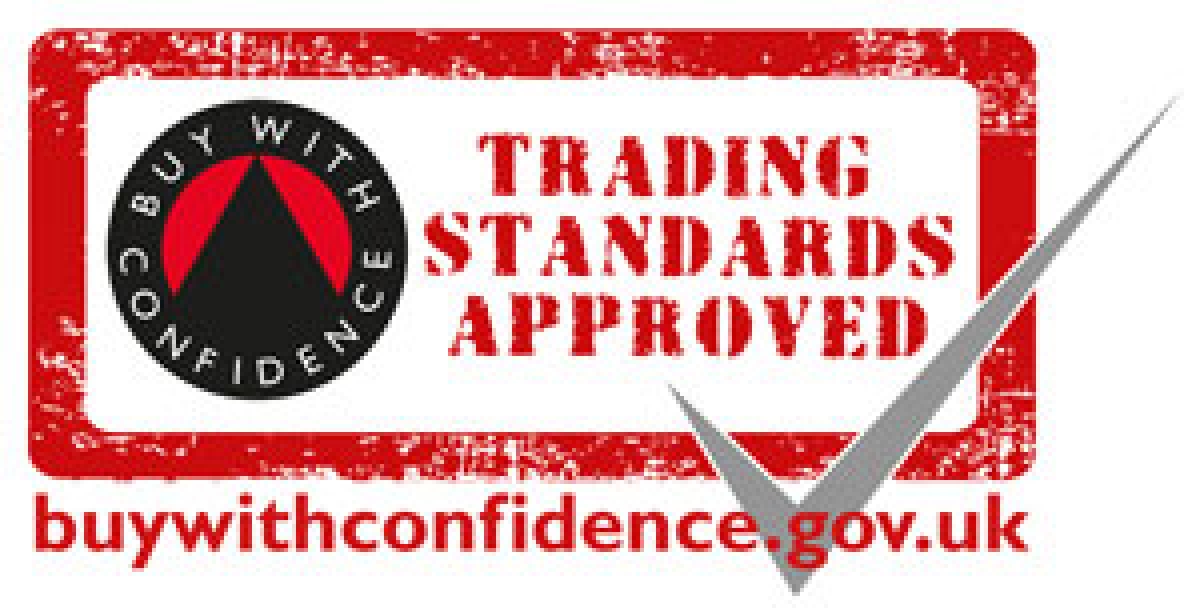 Welcome to Abbey Grab Bag
Important update regarding Coronavirus (COVID 19)
We appreciate and share everyone's concern regarding the spread of coronavirus. As a Company we are taking the spread of this virus extremely seriously. The health, wellbeing and safety of our customers and staff is our first priority.
We wanted to assure our customers that as a team and as individuals we are taking the necessary steps to protect ourselves and our customers.
Our drivers have been supplied with the necessary hygiene products to enable them to be able to keep their hands and cab as clean as possible. All our drivers have been trained and are aware of the steps and precautions they need to take to protect themselves and others as much as possible.
Our drivers' interaction directly with our customers is minimal. However, they are following the current guidelines when coming into contact with other people. They will be frequently cleaning their hands, wearing protective gloves when handling cheques or cash, will not shake hands and will stay at least a metre away from another person.
We will continue to monitor the situation closely and ensure we follow the guidelines and updates published by Public Health England and the World Health Organisation.
The Team at Abbey Grab Bag
20 YEARS EXPERIENCE
We are a professional waste carrier and have been serving the South for over 20 years. We ensure that all your waste is responsibly and legally transported to a licensed waste transfer station, where approximately 90% of the waste is recycled.
EASY AND CONVENIENT
Our bags can be used for mixed waste (with a few exceptions. Please see our FAQs page for further information) as well as soil and/or rubble. We can even take plasterboard and gypsum and this does not have to be separated from other waste.
Whether you are landscaping or clearing your garden, sorting out your garage or shed, carrying out DIY projects, have trades people carrying out home improvements or even moving home, our grab bags are perfect for every job.
Our skip bags are used by many trades people; Bathroom and Kitchen fitters, Landscapers, General Builders, Electricians, Plumbers, Plasterers, the list goes on. We are proud to serve individual homeowners to large building companies. Each and every one of our customers whether big or small is provided with an efficient, friendly and economical service. We pride ourselves on our customer focused service. From our office staff to our drivers, each and every one of our team will always be happy to help. Customer service is of the utmost importance to us. Our service and grab bags really are for all domestic, trade and commercial customers.
We collect in specific areas on certain days. This means generally you should not be more than two working days away from a collection once you call to book your collection in. It is our aim to collect your bag as swiftly as possible. We understand how frustrating it can be to have to wait for long periods of time to have rubbish taken away.
PAY ONLY FOR WHAT YOU USE
Rather than trying to guess how much waste you have and hiring a skip too large for your purpose, we can provide you with as many bags as you may require, and any that you do not use, keep in an unused condition, and hand back to us free of charge. You only pay for what we take away!
MUCKAWAY SERVICE
We provide a grab service for soil and/or rubble. If you find you have a large quantity of soil and/or rubble, our grab service is a more economical way of disposing of this. We have a dedicated grab lorry for our muckaway service which is suited for moving large amounts of inert (soil and/or rubble) waste. Our grab lorry uses an hydraulic arm with a clamshell bucket to load the tipper lorry. Please contact us for a quotation or to arrange a free site visit for advice on digging out and siting.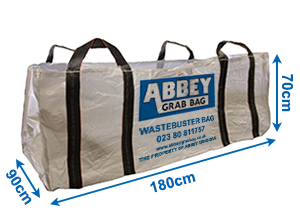 1.5 Tonne Capacity, £115 per bag
Includes Delivery, Collection and VAT
Order Now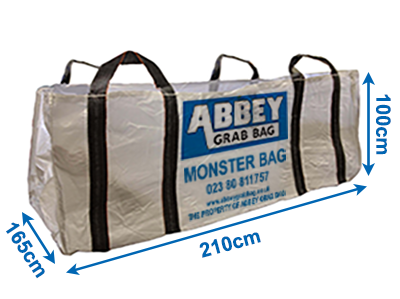 £235 per bag
Includes Delivery, Collection and VAT
£25 on delivery of bag, £210 on collection
Order Now
Delivering Skip Bags and Grab Bags to:
Southampton, Eastleigh, Romsey, Winchester, Fareham, Salisbury, Lymington and most surrounding areas
OUR LORRIES
The size of our lorries may not seem important but there are a few points to note. We run four wheeler 18 tonne lorries. This means that our lorries are big enough to cope having Hiab cranes which can lift over a tonne at full reach, but at the same time our lorries are small enough to provide an efficient service in the narrowest or most awkward of positions. We also have a Fleet Support Vehicle* which is a 3.5 tonne van with a rear mounted Hiab crane for really tight spaces. Grab bags really are a more flexible alternative to a skip.
* Please check for suitability, maximum lift 500kg.
We are investing in the latest low emission Euro 6 technology. Euro 6 lorries have lower emissions and are in line with the impending legislation with regard to emissions limits. As a company we acknowledge our responsibility to be as environmentally conscious as we possibly can. This also applies to our skip bags. They are more environmentally friendly in that they are recycled after use. We collect multiple bags at a time thereby reducing the number of trips to areas unlike a skip lorry which generally picks up one skip at a time. We are mindful of our waste miles and our impact on the areas we live and operate in.
GARDEN WASTE: EWC 20-02-01/ 20-02-03
Garden waste is a mixture of inert (soil and rubble) and active waste. The active waste can take many forms but usually comprises "green" waste such as branches, grass, hedges etc. It will also comprise treated wood e.g fence panels, plastic (flower pots and bags etc) and other such waste.
We can also take small roots and stumps that can be easily lifted by people ( i.e not large stumps that have to be machine handled. This is a specialist waste)
As with all our waste, as much as possible of garden waste is recycled. This can take place in many forms depending on the actual waste. Soil and rubble is screened and reused, wood can be chipped or used as bio fuel, hard plastic is pelleted and reused, "green" waste is composted.
Mixed Construction and Demolition Waste: EWC 17-09-04
Waste produced from construction and demolition activities, and can include items such as rubble, soil, metal, plastic, wood, plaster, plasterboard, etc. This waste is sorted and separated into the relevant waste types for recycling.
Inert waste- Soil and stones- EWC 17-05-04/ 20-02-02
Naturally occurring soil and stones, such as soil dug from your garden. This material will be screened (sieved) and graded and reused on landscaping projects.
Rubble/Hardcore -EWC 17-01-07/17-01-01
Typically comprised of bricks, block, concrete, etc. usually from walls, driveways, etc. This material will ultimately end up crushed and reused as hardcore on construction projects.
Household / Household clearance waste- EWC 20-03-01
Waste produced from house clearances or just a general sort out. We can take most electrical items such as kettles, toasters, etc. The waste is sorted and recycled as appropriate.